UFC Fight Night 40 has been flying under the radar, but the card boasts a number of intriguing matchups.
At the top, Matt Brown will meet Erick Silva in a battle between Top 15 welterweights. With six consecutive wins, Brown should be closing in on a shot at the 170-pound championship. If he beats Silva convincingly, "The Immortal" could be looking at a title-shot eliminator in the coming months.
Furthermore, Costas Philippou will look to get back into the win column following two straight losses. The Cyprus-born middleweight contender will meet Lorenz Larkin, who lost to Brad Tavares in his most recent outing.
As always, Bleacher Report writers Sean Smith, Riley Kontek, Scott Harris, Craig Amos and James MacDonald are here to provide their picks for this weekend's main card.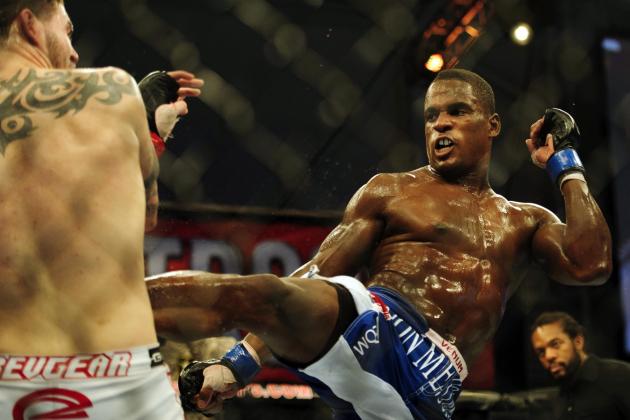 Kontek is still holding onto a slim lead over Amos, while MacDonald and Harris remain within striking distance from the top.
We don't have to talk about my record. I do promise I'll scratch and claw my way out of the basement before all is said and done, though. 
Following UFC 172, here are the updated prediction standings:
Riley Kontek (47-18-1)
Craig Amos (46-19-1)
James MacDonald (44-21-1)
Scott Harris (43-22-1)
Sean Smith (40-25-1)
Sean Smith
Although Louis Smolka isn't ranked in the 125-pound division, he seems like a rough matchup for Chris Cariaso. While Cariaso is usually solid against opponents who aren't able to keep him down, Smolka will own a significant reach advantage on Saturday and displayed excellent stand-up skills during his win over Alptekin Ozkilic in January. Resorting to takedowns is not something Cariaso usually has to do, but that may be what it will come down to this weekend, and that's not a good sign for the Californian.
Smolka, Unanimous decision
Riley Kontek
Cariaso is an enigma. An impressive Cariaso will show up one day, while a disappointing one will show up the next day. As for Smolka, in watching his decimation of Ozkilic, it's hard not to get excited about him. His striking is lethal, and he showed he likes to slow guys down by going to the body. Cariaso will be a tough out, but Smolka is a tough fighter in his own right. He will outstrike Cariaso, thwart takedowns and move closer to the Top 10.
Smolka, Unanimous decision
Craig Amos
Cariaso is usually a fun guy to watch fight, but he is sometimes overwhelmed when his opponents turn up the pressure, a weakness that looks particularly vulnerable this time around. I expect Smolka to put in a hard 15 minutes and get a well-earned W.
Smolka, Unanimous decision

James MacDonald
Which Cariaso will show up on fight night? Truth be told, it might not even matter. Smolka is all kinds of dangerous no matter where the fight goes. If the best Cariaso shows up, it could be a heck of a fight. Smolka may just have too many tools, though.
Smolka, Unanimous decision
Scott Harris
"Smolka" them if you've got them. Because while I love Cariaso and his free-swinging lifestyle, my head really turned when Smolka beat Ozkilic. They weren't playing a lot of "Smolka" music in the Alps that night, I can tell you. But as for Saturday, he uses his complete game to lock Cariaso in the "Smolka" house, where he might never return from the same.
Smolka, Unanimous decision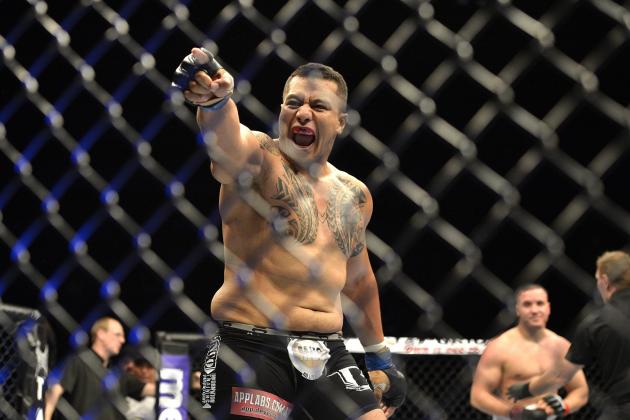 Sean Smith
I'm surprised to see Soa Palelei taking on a UFC newcomer after back-to-back wins. Ruan Potts might end up scoring a few wins inside the Octagon, but he isn't ready for Palelei. Expect him to finish the South African with ground-and-pound early on.  
Palelei, TKO, Rd. 1
Riley Kontek
Palelei has quietly made a strong return to the UFC, running a 2-0 record in his second stint with the company. He beat up Nikita Krylov and bounced Pat Barry's head off the mat like a basketball. He takes on a newcomer in Potts, who is a promising addition. That being said, Palelei, when he paces himself, is as dangerous as they come. He will plant Potts on the mat, sledgehammer him with ground-and-pound and earn another first-round finish.
Palelei, TKO, Rd. 1
Craig Amos
The hard-hitting Palelei will look to continue riding a substantial momentum upswing by spoiling Potts' UFC debut. Palelei has won his last 10 fights by knockout, and he's likely to continue that trend Saturday night.
Palelei, KO, Rd. 1
James MacDonald
Newcomer Potts has a tough first assignment in the UFC, taking on the beastly Palelei. The Australian has tonnes of potential, with his mixture of size and skill. Look for him to pick up where he left off against Pat Barry.
Palelei, TKO, Rd. 2
Scott Harris
Palelei is one of my favorite fighter follows on Twitter. He's one big motivational cliche. He also happens to be one of the biggest hitters in the UFC, and that will spell victory for the big Australian. Palelei will give 110 percent, he'll want it more, and he'll get the results he's looking for.
Palelei, KO, Rd. 1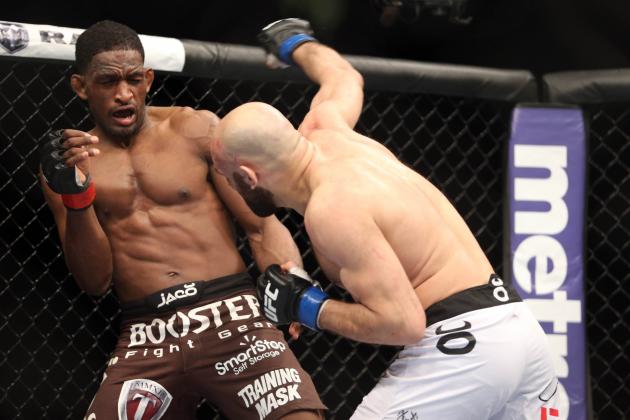 Sean Smith
The UFC pulled the trigger too quickly when they cut Tim Means in 2013, so I'm glad to see him back in the Octagon already. Means might not be well-rounded enough to become a contender, but he has the striking to pick up a lot of good wins against non-wrestlers. For Neil Magny, the verdict is still out, and he doesn't have the takedowns to capitalize on Means' biggest weakness.
Means, Unanimous decision
Riley Kontek
I'm glad Means is back with the UFC. I always thought he was a great prospect who got a tough deal when he was cut. He is taking on a tough guy in Magny, who is consistently in close fights. Means is a better striker and should have sturdy enough hips to thwart any takedowns. He will make this fun and outstrike Magny to a decision.
Means, Unanimous decision
Craig Amos
Magny looked like a new man last time he entered the Octagon, and if he can build on that performance, he should take out Means on Saturday night. It's by no means a gimme, but I believe Magny will dial up the pressure and put his foe on the defensive, earning a clear-cut unanimous-decision win.
Magny, Unanimous decision
James MacDonald
Means gets a well-deserved second shot in the UFC. However, I don't anticipate his return being a happy one. He is facing an opponent in Magny who is constantly improving. Indeed, Magny looked outstanding last time out. This should be a close fight, but I'm looking for him to grind out a tough decision.
Magny, Unanimous decision
Scott Harris
"Squidward" has a lot of skills and is probably underrated, but I think Means is the better fighter. Both men like to tie it up, and I see Means landing enough rough stuff and gaining enough control time in the clinch to take a bit of a snoozer. Is this really a better fight than anything Eddie Wineland is involved in?
Means, Unanimous decision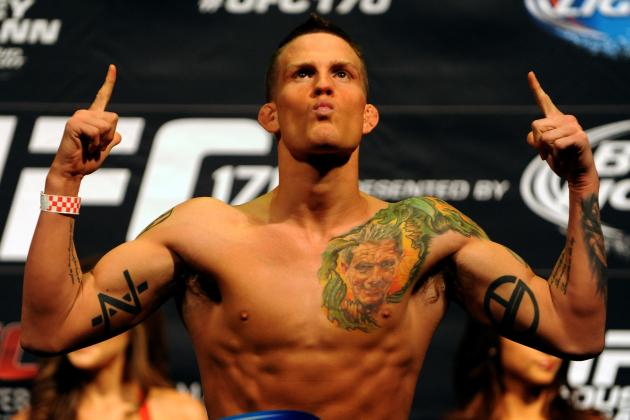 Sean Smith
For the most part, Erik Koch and Daron Cruickshank both prefer to stand. However, I think Koch will be more willing to mix things up in this particular matchup, and he should take advantage of some holes in Cruickshank's game on the ground.
Koch, Submission, Rd. 2
Riley Kontek
This bout has Fight of the Night written all over it. That being said, Koch should have the tools and experience to win. He has faced higher levels of competition, while Cruickshank has been inconsistent against guys toward the top half of the division. The striking exchanges will be fun, but Koch will come out on top.
Koch, Unanimous decision
Craig Amos
I've thought highly of Koch since his WEC days. After suffering through a bit of a rough patch, he's ready to ascend the UFC ranks once again. Cruickshank is no easy out, that's for sure, but he doesn't have the explosiveness and power to match Koch.
Koch, TKO, Rd. 2
James MacDonald
This may very well be the standout fight on the card. Both are flashy strikers, with Koch arguably the more competent grappler. I might as well flip a coin to pick this one, but I'm giving the slight edge to the more well-rounded Koch.
Koch, Unanimous decision
Scott Harris
This is one of those ones that might evolve and/or devolve into one of those true phone-booth slugging exchanges that make fight fans swoon. But the difference might emerge on the ground, where Koch has a decided advantage.
Koch, Unanimous decision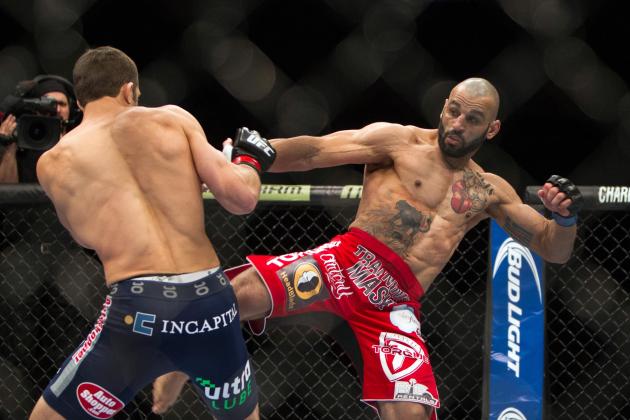 Sean Smith
Poor takedown defense has prevented both Costas Philippou and Lorenz Larkin from reaching Top 10 status in the middleweight division. On Saturday, the 185-pounders will be given an opportunity to show off their stand-up abilities as they both look to rebound. Beaten with a body kick in his most recent outing against Luke Rockhold, Philippou could be in trouble against Larkin, who has an excellent kicking arsenal.
Larkin, Unanimous decision
Riley Kontek
Two guys who are battling inconsistency as of late will look to get things back on track in the co-main event. Philippou is a boxer, while Larkin is a muay thai striker. Both are not especially learned on the ground. This will be an exciting fight that will depend on who is more versatile. Flip a coin, take whomever the coin says and move on with your life.
Larkin, Unanimous decision
Craig Amos
Neither fighter has inspired much confidence of late, but this could wind up being a pretty good scrap. I think Larkin's more expansive striking repertoire gives him a slight edge on the feet, which is where I see the bulk of the action coming. Ergo, he's the choice here.
Larkin, Unanimous decision
James MacDonald
Well, one thing we can be confident of is that this will be a striking battle. Both men excel on the feet and are not nearly as effective when the fight hits the floor. Larkin has the more complete striking game, while Philippou is primarily a boxer. With that in mind, I expect Larkin to edge a decision as a result of his more diverse offence.
Larkin, Unanimous decision
Scott Harris
To me, this is one of those fights I'll be sorry to see someone lose. I think Philippou's boxing and takedown defense will be just enough to gain the edge.
Philippou, Unanimous decision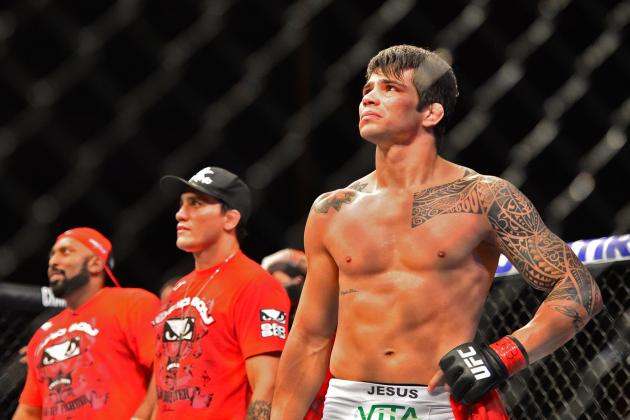 Sean Smith
Despite a mediocre 4-3 UFC record, Silva still seems to be getting treated like the next big thing in the welterweight division. He's a significant betting favorite over Brown, but I'm too sure why. He might be able to catch Brown on the ground, but Silva is not nearly as proven as The Immortal and could be looking up at the lights if he gets into another wild exchange like he did against Dong Hyun Kim. 
Brown, TKO, Rd. 2 
Riley Kontek
I may be in the minority here, but I am still not sold on Brown. He has picked up some big wins, but they haven't been against as high-ranked opponents as MMA people will tell you. Silva is no joke. He is especially no joke on the ground with his submissions, where he holds a significant advantage. That's where he will win this bout.
Silva, Submission, Rd. 2
Craig Amos
I can't figure out why Brown is such an underdog here, or I think he is going to lose. Silva has looked pretty ordinary since shedding his prospect status several fights back, and Brown has been a man on a mission. I won't even delve into analysis for this pick since it's a gut feeling.
Silva, Submission, Rd. 2
James MacDonald
While Silva has had an up-and-down UFC career, there is no doubting his potential. Brown, on the contrary, has been far more consistent. This may come down to whether the Brazilian can end the fight relatively early. If it goes to the later rounds, my money is on Brown's superior cardio earning him the win.
Silva, TKO, Rd. 2
Scott Harris
The UFC just keeps setting them up, and Brown just keeps knocking them down. Doesn't matter to me that Silva has the edge in things like "skills" and "fighting." You can't train a chin. Brown will test it, and Silva will fail. Sound the upset alarms.
Brown, KO, Rd. 1