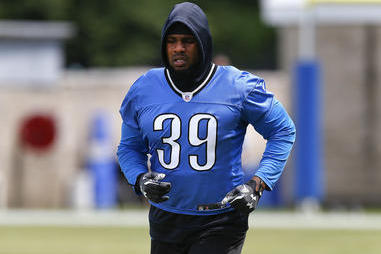 Paul Sancya/Associated Press
2 Reads 0 Comments
The Indianapolis Colts bolstered their running back depth on Sunday, as they announced they signed veteran Stevan Ridley.
Ridley entered training camp and the preseason on the Detroit Lions' roster with a legitimate chance to carve out a role as a short-yardage back, but after disappointing in two exhibition contests, he was released on Aug. 25.
The former LSU standout suffered a torn ACL and MCL with the New England Patriots during the 2014 season, but he was able to return to the field for the New York Jets in 2015.
Ridley was largely ineffective, though, gaining just 90 yards on 36 carries in nine games.
Prior to his stint with the Jets, Ridley was selected in the third round of the 2011 NFL draft by the Patriots. After just one season, he became New England's starter and enjoyed a career year in 2012.
Ridley rushed for 1,263 yards 12 touchdowns with a solid yards-per-carry average of 4.4, but that proved to be his high point.
The following campaign saw Ridley get demoted to a backup role due to fumbling issues before his stint with the Pats came to an end because of a knee injury in 2014.
While Ridley averaged 4.5 yards per tote over his first three NFL seasons, that number dipped drastically to just 3.3 between the 2014 and 2015 seasons.
Ridley didn't show marked improvement with the Lions during the preseason, but he has a new lease on life in the NFL after catching on with the Colts.
Recent results suggest Ridley has lost a few steps, but he is just 27 years of age, which means he should be firmly in his prime.
The fact that he is another year removed from major knee surgery is a significant factor in his favor, as is his previous track record of success in the NFL.
Ridley did have some fumbling problems prior to the knee injury, but he was also highly productive with the Patriots and especially excelled at finding the end zone.
Even if Ridley doesn't return to a starting role, his ability to grind out tough yardage could be valuable in certain situations.
He didn't show any signs of returning to form with the Jets last season, but as a former 1,200-yard rusher, Ridley is undoubtedly worth the flier that Indianapolis decided to take on him.
Frank Gore is the Colts' unquestioned starter, but there is room to carve out some playing time behind him.
Ridley will compete with the likes of Robert Turbin and Jordan Todman to be Gore's primary backup, so there is undoubtedly an opportunity for Ridley to be a significant contributor.
Gore hasn't missed a game since 2010, but his injury risk is considerable at the age of 33, so bringing in a veteran player with a history of success like Ridley is a logical move from Indy's perspective.
Follow @MikeChiari on Twitter.