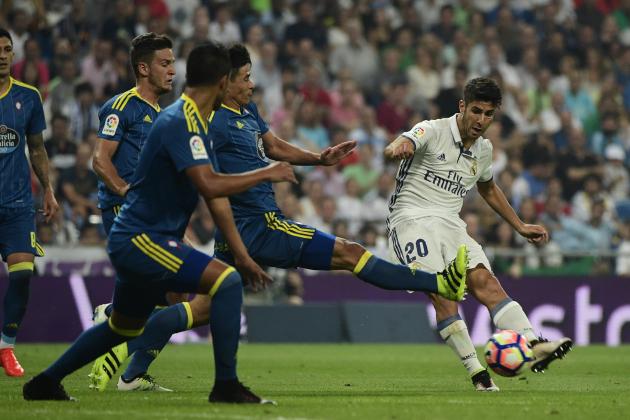 PIERRE-PHILIPPE MARCOU/Getty Images
5 Reads 0 Comments
LaLiga returned to the Santiago Bernabeu Stadium on Saturday, and Real Madrid hosted Celta Vigo in their first home game of the 2016-17 season.
The first half ended goalless, but Alvaro Morata capitalised on some shoddy Celta defending to put Real ahead on the hour mark.
Goooooooool de Morata el marcador se mueve @realmadrid 1-0 @rccelta_oficial a los 60 minutos pic.twitter.com/92IWodlEW6
— pepe (@LAZZAROXSPORTS) August 27, 2016
But the visitors hit back shortly after. Fabian Orellana equalised with a sublime finish.
Boom boom! Orellana. #LaLiga pic.twitter.com/T2EEO7EYiS
— Javier Rodriguez (@JaviiiRodriguez) August 27, 2016
It looked like Real were about to drop two early points in the LaLiga title race, until Toni Kroos secured all three points with a brilliant low finish from just outside the box.
Lucas Vasquez y James no se rindieron, y su jugada termino en el 2-1 de Kroos. #RealMadrid @MaketoLari @SeasonNT pic.twitter.com/RdaSxraaWn
— Luis Alfredo Avila N (@AvilaLuiss) August 27, 2016
[Twitter]