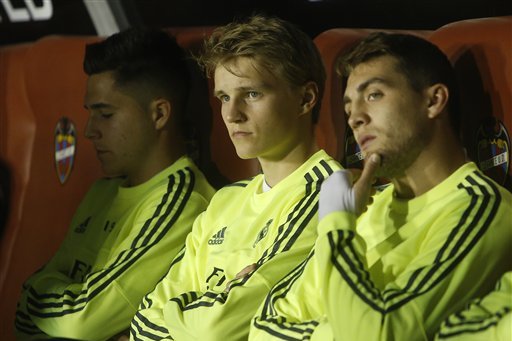 Alberto Saiz/Associated Press
4 Reads 0 Comments
Real Madrid youngster Martin Odegaard reportedly won't move to Rennes on loan after it was discovered the player is too young to seal a temporary transfer. Plus, Arsenal are said to be leading the hunt to sign James Rodriguez.
It was mooted Odegaard would be farmed out to Rennes in an attempt to get first-team minutes, but the club's sporting director, Mikael Silvestre, told French radio station RMC that won't be the case (h/t Get French Football News).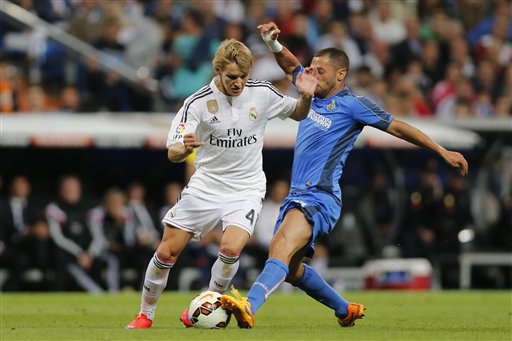 Daniel Ochoa de Olza/Associated Press Odegaard has made just one appearance in La Liga.
According to the report, FIFA's regulations on minors means Odegaard cannot be loaned out, as he is under the age of 18, meaning he now potentially faces another season spent in Real Madrid's Castilla ranks.
With just a week remaining in the transfer window, the Mirror's Ed Malyon didn't mince his words when analysing what this meant for the teenager's prospects in 2016-17:
If, as reported in France, Martin Odegaard can't actually be loaned out because he's too young then he is screwed.
— Ed Malyon (@eaamalyon) August 22, 2016
Odegaard, 17, arrived at the Santiago Bernabeu in January 2015 from Norwegian outfit Stromsgodset, but he's managed just one appearance for Real's senior side since making the jump to Spain's capital.
OptaJean further elaborated upon the Norway international's involvement—or lack thereof—in Madrid, struggling to have any impact under the tutelage of manager Zinedine Zidane:
32 - Martin Odegaard has only played 32 minutes in all comps for Real Madrid since joining the club on 21 January 2015. Rennes ?
— OptaJean (@OptaJean) August 16, 2016
Los Blancos' oversight means they may now struggle to find a loan club for their starlet before the transfer deadline, and Odegaard's once-meteoric potential risks being stunted further.
Elsewhere Spanish daily Mundo Deportivo reported Arsenal are in the lead to recruit Rodriguez due to the fact Premier League rivals Chelsea are afraid of what a pursuit might spell for Eden Hazard (h/t Daily Star's Luke Gardener).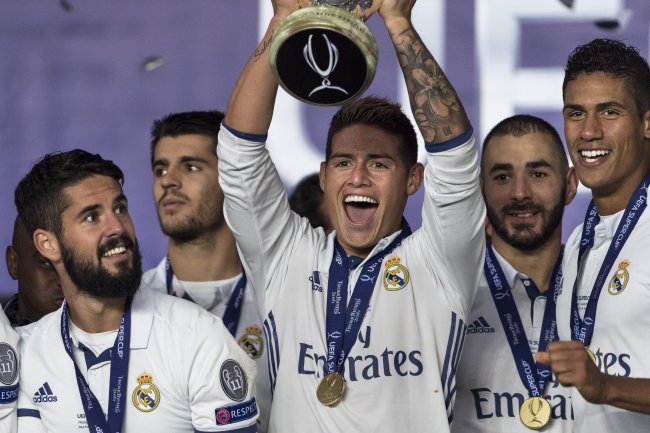 Trond Tandberg/Getty Images Rodriguez has been linked with a Real Madrid exit.
Blues manager Antonio Conte is said to be "fearful of losing Hazard to Real," presumably under the impression that if he goes in for Rodriguez, Real will ask for the Belgian's signature in return.
Rodriguez moved to the Bernabeu after the 2014 FIFA World Cup for a fee of €80 million, and even despite his fall in playing time last season, blogger Liam Canning believes the winger could present good value for money:
Looks like James Rodríguez isn't really in Zidane's plans for the next season. Would love to see him in the PL - €60m isn't that expensive.
— Liam Canning (@LiamPaulCanning) August 21, 2016
According to Goal, Real Madrid manager Zinedine Zidane said after Sunday's 3-0 win over Real Sociedad that Rodriguez is still a part of his plans for 2016-17: "He is well and happy. He worked and helped us to gain the three points."
Cristiano Ronaldo and Gareth Bale both sit firmly ahead of Rodriguez in Real's pecking order, and the emergence of Marco Asensio adds yet more competition for the Colombian, but it appears Los Merengues want their star all the same.