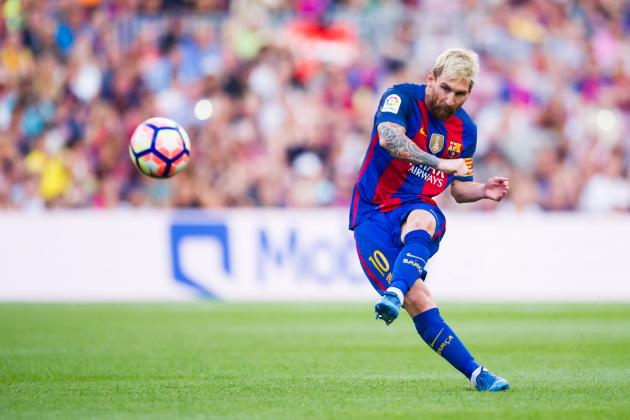 Alex Caparros/Getty Images
14 Reads 0 Comments
It wouldn't be a kneejerk reaction to Barcelona's start to the season to say they can win it all, just as they did in 2015.
LaLiga, the UEFA Champions League and the Copa del Rey, taken in one fell swoop as the MSN striking trident clicked and started destroying every team in their wake. That's Lionel Messi, Neymar and Luis Suarez.
And of course, if you had to pick three stars from the season ahead, you would be wise to stay with those three.
He has a blond mop and a ginger beard, but Messi is still Messi despite his bizarre disguise. His performance against Real Betis on the opening day was sensational and a sign of what is to follow this season.
With increasing effect, he is playing deeper and deeper, less concerned with scoring the goals as he is with running the team's business. Seeing Barcelona players operate around Messi is like watching bees around their queen.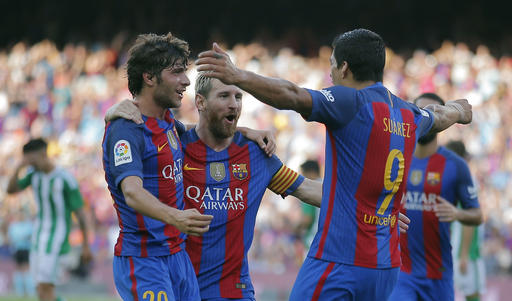 Manu Fernandez/Associated Press
Swarming and swirling, swooping and soaring they go, but the constant in the middle is Messi, with each move involving him—often at several points.
It's not so much that Messi demands the ball but the ball demands him, as somehow he is always in the right position to receive and move it forward.
Despite this creative streak being emphasised and playing further away from the goal itself, he is still a potent danger, as his strikes against Betis showed.
Both came from outside the box because sometimes he decides the best thing to do is fire in a long-range strike, and when Messi elects to choose that, it's invariably the right decision.
Other players wind up efforts from distance and you already anticipate the ball sailing into the upper echelons of the stadium—figuratively speaking, because Camp Nou is so grandiose that a player who might accidentally kick the ball into the top tier generally might not be of the calibre required at Barcelona—but with Messi, it's the bulging net that flashes through your mind.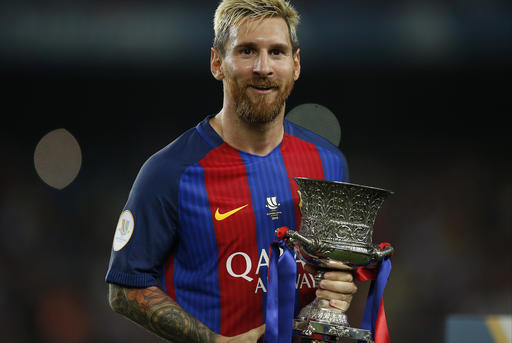 Manu Fernandez/Associated Press
Watching him reach his older years will be intriguing albeit sad, and when he does take on man after man at speed, it should be relished because at some point that side of his game is going to end.
Suarez is already scoring goals. He netted a hat-trick against Betis, making Antonio Adan's afternoon miserable, even though the goalkeeper actually played quite well. It's testament to the quality of Barcelona's finishing—and in particular Suarez's—that his side ended up scoring as many as they did in the 6-2 win.
The Uruguayan forward had a frustrating summer, unable to feature in the Copa America Centenario because of injury, but that may actually lead to him having an even better club season.
He is well rested, mildly frustrated after not being able to play for his country and out to defend the European Golden Shoe he won last season, when he netted 59 times, reaching levels that only Messi and Cristiano Ronaldo have frequently hit.
And the other member of the trident, Neymar, must push on and continue stretching out towards the limits of potential. Where they are, nobody knows.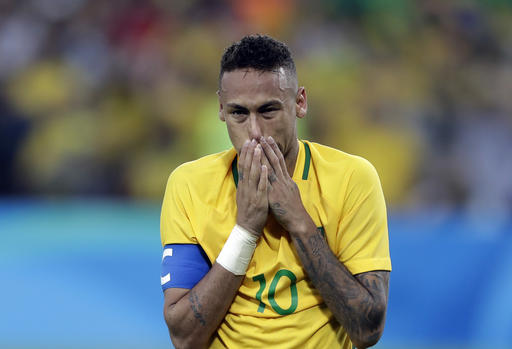 Andre Penner/Associated Press
He is now an Olympic champion, bringing home the gold medal from Brazil, and will soon be back in his Barcelona stride.
Neymar penned the new deal he has been angling for this summer, and with speculation over his future cleared, he can concentrate on what he's good at. No, not partying. Football.
No player in world football, bar perhaps Messi, has the same ability to blaze by his man either through trickery or pure speed.
Beyond those three, the breakout star this season could be Samuel Umtiti. The French centre-back has already impressed in his appearances in pre-season, the Spanish Super Cup and the opening LaLiga match.
Javier Mascherano will have an increasingly smaller role on the pitch—off it, he will still be a leader—and Umtiti will fill the void.
The ease and comfort with which he has slid in alongside Gerard Pique has been remarkable, and the defender has shown he has the eye for a pass and ability to surge forward that are both necessary and desired at Camp Nou.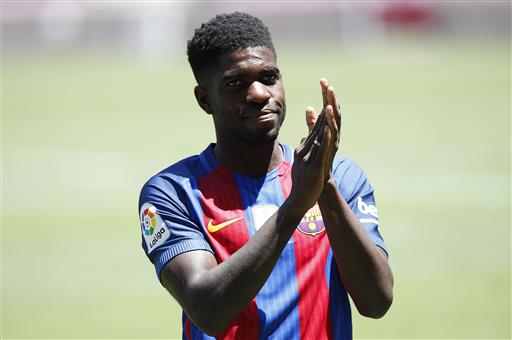 Manu Fernandez/Associated Press
Denis Suarez too, could have a fine season, along with other new signings Lucas Digne and Andre Gomes. It's rare for a club to bring in this many players and for them all to have impressed as much as they have thus far.
Logic dictates that at least one of them won't work out, but that's a problem for later. As of now, Cules are dreaming that in five years' time, their summer signings will all have key roles in the team.
It is harder to predict disappointments. Nobody wants to think badly about a player, and even players who don't impress can eventually come good. Take Arda Turan.
After half a season sitting in the stands because Barcelona were not allowed to register him, he eventually made his debut in January 2016 after signing from Atletico Madrid the previous summer.
For months, he struggled but things finally appear to be taking shape for him this summer. Along with some decent displays in International Champions Cup friendlies, he scored twice in the second leg of the Spanish Super Cup and also opened the scoring at Camp Nou against Betis.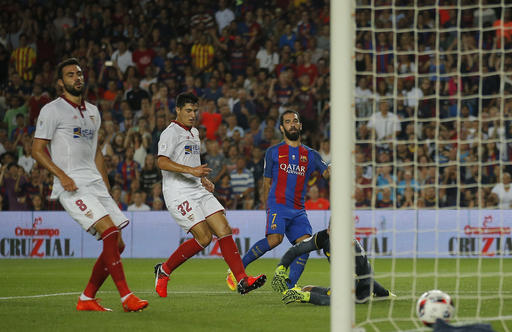 Manu Fernandez/Associated Press
He could go on to become another breakout star for Barcelona if he can permanently recapture his Atletico form. Equally, this could just be a fleeting flash of what was, and perhaps when Neymar returns and Arda loses his match rhythm, he could fall away again.
If there was one player you were forced to pick out as a potential disappointment, it would have to be Aleix Vidal.
Signed at the same time as Arda, he also missed half a season and then struggled to hit his best levels.
Luis Enrique appears to prefer playing Sergi Roberto out of position at right-back to picking Vidal—as demonstrated in the first leg of the Spanish Super Cup and LaLiga's opener—while Vidal started the second leg with Barcelona already in a commanding position.
Vidal was not a favourite of the coach last season, and if Sergi Roberto continues to play well, it may be hard for him to break into the side.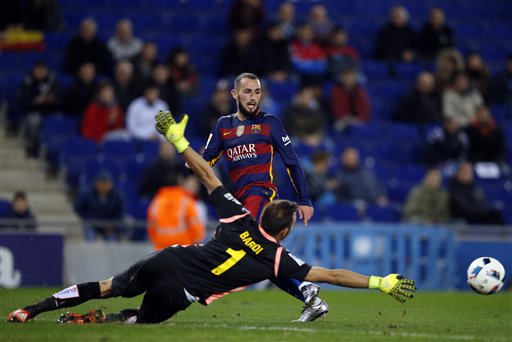 Manu Fernandez/Associated Press
Another player who could go either way is Munir El Haddadi. He's had a storming pre-season, and if one of the three forwards gets injured, at the moment he is in line to fill the gap.
That means he can either grasp the opportunity to shine or show that he's not ready to play consistently for a team as big as Barcelona.
Rafinha Alcantara is liked by the fans and coach, but forcing his way into the side will be very tough. He must first steer clear of injuries, which plagued him both last season and in the summer when he missed the Copa America. Having played with Brazil at the Olympics, he won't be at the same fitness stage as his team-mates.
There is much at stake for Barcelona as a club this season, like every year, but also on an individual level.