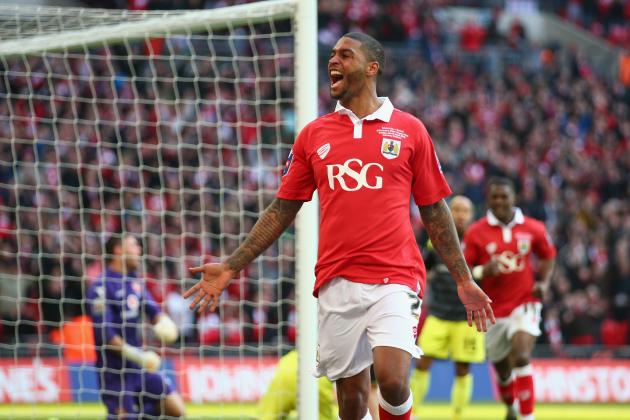 Paul Gilham/Getty Images
1 Read 0 Comments
 Favourites Bristol City easily beat Walsall 2-0 at Wembley Stadium on Sunday to win the 2014-15 Johnstone's Paint Trophy, the third Football League Trophy in the club's history. 
The Robins dominated from start to finish and could have scored more than two, but Walsall put up a decent fight and even provided a few scares at times. City's win was never really in doubt, however.
The competition's official Twitter account shared this photo ahead of kick-off, with Wembley Stadium looking almost full for this clash between lower-league sides:
Here come the teams. #JPTFinal pic.twitter.com/r9yLptuhUa
— JPT (@JP_Trophy) March 22, 2015
Per broadcaster Ian Abrahams, fans did in fact turn up in huge numbers:
Over 70,000 at Wembley today, biggest attendance for a game in Britain today, well done Bristol City and Walsall fans
— Ian Abrahams (Moose) (@BroadcastMoose) March 22, 2015
As expected, the Robins took control of possession early. Luke Freeman found some space on the edge of the box and fired a first effort on goal, putting his shot just over the bar.
Anthony Forde answered for Walsall, but his shot from distance was easily gathered by Frank Fielding. The opening exchanges all went Bristol's way, with Freeman in particular giving the Walsall defence fits.
Just 15 minutes in, the Robins took the lead. Aden Flint met Marlon Packs' corner, and the giant defender powered his header past Richard O'Donnell. BBC Sport's Caroline Chapman noticed the defender has been in excellent scoring form of late:
Aden Flint. It had to be. Leaped like a gazelle and heads #BristolCity ahead. That's six in 10 games for him now. #bbcJPT
— Caroline Chapman (@caz_chapman) March 22, 2015
Kieran Agard was the top danger man for the Saddlers, but while his sharp runs resulted in plenty of pressure, they hardly created chances. The counter-attack in particular was lacking, as Walsall failed to send enough bodies into the box to take advantage of the space.
Bristol City got away with a massive blunder after 25 minutes, when a clash of two defenders in the box nearly saw the ball leap over stopper Fielding and into goal. Instead, the ball harmlessly fell on the roof of the goal.
The match had started to lose some of its earlier intensity, however, as shared by Chapman:
Game's petered out a bit now. All being played in the middle third, not a massive amount of fluidity. #BristolCity #walsallfc #bbcJPT
— Caroline Chapman (@caz_chapman) March 22, 2015
Walsall continued to search for an opening, and set pieces gave them the bulk of their chances. A poor clearance off a Forde free-kick fell to Sam Mantom, but his shot was well off the mark.
Abrahams was enjoying himself, although he would have preferred it had the favourites not scored first:
35mins Bristol City 1-0 Walsall - decent enough game, although feel we needed Walsall to score first to make it a real test for City
— Ian Abrahams (Moose) (@BroadcastMoose) March 22, 2015
Andy Taylor came closest to tying things up for the Saddlers, blasting a powerful volley just over the bar. At the other end of the pitch, Pack was given far too much space and fired one in from long range, but O'Donnell was paying attention and gathered the ball.
At half-time, the score was 1-0 City:
#JPTFinal HT: @bcfctweets 1-0 @WFCOfficial. Aden Flint's headed goal is the difference here at @wembleystadium. pic.twitter.com/8kUEzW92Ep
— JPT (@JP_Trophy) March 22, 2015
Flint continued his aerial dominance in the second half, sending a cross back in front of goal that was nearly pushed into goal. City aggressively searched for a second, and they found it just five minutes in.
Mark Little needed two tries to slot home from close range, and with the goal, the Robins looked like a safe bet to lift their third Football League Trophy.
Mark Little scores to put @bcfctweets 2-0 up here at Wembley #JPTFinal pic.twitter.com/N4nXWDtQFC
— JPT (@JP_Trophy) March 22, 2015
Walsall replied with a dangerous cross that went untouched but forced Fielding into pushing the ball onto the cross-bar, and the follow-up was blocked at the last moment. The Saddlers tried to commit men forward, but City remained a threat on the counter.
Forde failed to spot three team-mates waiting for a cross in the box, opting to shoot well over the bar from a difficult angle. 
Football writer George Flood thought the second goal really put an end to the match, as the second half quickly died out:
Second Bristol City goal has rather killed this as a contest. Never in any real doubt.
— George Flood (@GeorgeFlood24) March 22, 2015
James Baxendale tried to strike back for Walsall, but the Saddlers couldn't come anywhere near the goal of Fielding, doing most of their damage from distance. 
City had saved up their substitutions and spent the final five minutes of regulation killing any momentum by bringing in fresh legs, as the fans were basically counting down to the final whistle at this point. Wallsall had put up a good fight, but the Robins showed why they lead League One by such a huge margin. 
After four minutes of added time, the wait was finally over:
There's the full-time whistle! @bcfctweets have won the #JPTFinal 2-0 after goals from Aden Flint and Mark Little. pic.twitter.com/2Yg4WelFu8
— JPT (@JP_Trophy) March 22, 2015
Speaking to the BBC, goalkeeper Fielding gave the Saddlers plenty of credit for a great performance:
We had a game plan, we stuck to it and it came off.
Jordan Cook's cross nearly caught me out - those are the fine margins and it went for us today.
We knew Walsall were dangerous but thankfully we got the two goals I think we deserved.
Bristol City were huge favourites to do the double this season, and with the Football League Trophy now locked up, the Robins can turn their attention to their League One Campaign. Promotion to the Championship beckons, and if City manage just that, it will have been one incredible season. 
Walsall can look back on a fantastic run in the tournament, and there's no shame in losing the final against such a dominant adversary. 
Follow @ReverschPass