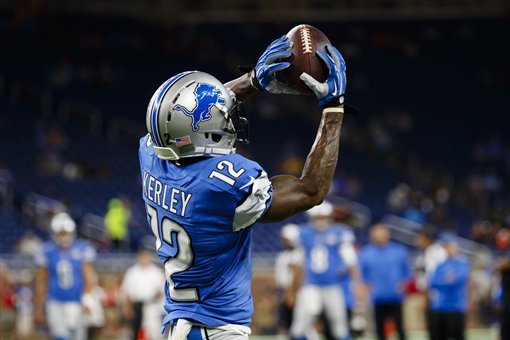 Rick Osentoski/Associated Press
1.3K Reads 1 Comment
The San Francisco 49ers attempted to shore up their receiving depth Sunday, trading offensive lineman Brandon Thomas to the Detroit Lions for wideout Jeremy Kerley.
ESPN.com's Adam Schefter and Ian Rapoport of NFL Network reported the news.
The 27-year-old Kerley spent his first five seasons with the New York Jets. He made 16 receptions for 152 yards and two touchdowns in 2015, losing significant playing time on a revamped Jets offense. Those numbers marked career lows for the former fifth-round pick, who has been used primarily as an underneath target.
The Lions signed Kerley to a one-year deal in March.
Thomas, 25, spent his first two seasons in San Francisco after being a 2014 third-round pick. He has never appeared in a regular-season NFL game because of a series of injuries. An ACL tear suffered in the draft process wiped out his entire rookie season, and he dealt with a high-ankle sprain in 2015.
With roster cuts looming, this is more than likely a situation where the two teams were dealing players who had no chance of making their rosters.
Kerley was behind Golden Tate, Anquan Boldin and Marvin Jones among the notable veterans on the depth chart, and the Lions want a look at some younger players in the post-Calvin Johnson era. Thomas hasn't made a meaningful contribution since his NFL arrival, was buried on the depth chart and has no ties to new head coach Chip Kelly.
Neither player is a lock to even make the 53-man roster of his current team.
The 49ers have one of the worst receiving corps in football, but they had 13 wideouts on their roster heading into this weekend. Each of those players has had more of a chance to learn Kelly's system, which greatly varies from your standard NFL fare. With only a few days before the final preseason game and 53-man roster cuts, Kerley will have to impress in practice to avoid being cut.
Thomas has fewer issues in Detroit. The Lions are carrying only a handful of guards at the moment, and none of the young guys are breaking out in camp. Ohio State product Chase Farris was an undrafted free agent, and Joe Dahl was a fifth-rounder out of Washington State. Dahl has a better chance of making the roster than Farris or Thomas, but the latter has a shot on talent alone.
In a nutshell: This is one of those lateral end-of-camp moves that probably helps no one.
Follow Tyler Conway (@jtylerconway) on Twitter.