College football teams can have as many as 105 players on their rosters, yet no more than 85 can be on scholarship. The rest must pay their way and are known as walk-ons.
By and large, walk-ons are former standout high school players who weren't considered good enough to earn a free ride but still possess enough value to help a team out in terms of depth and practice flexibility. When a school finds itself with some extra scholarships, sometimes a select few walk-ons will pick up an award for a season or two.
And then there are the success stories, the players who go from nobody to key contributor to star to...the NFL?
Each year, the NFL draft features a few players who began their college careers as walk-ons, completing the ultimate rags-to-riches journey. That list includes current NFL stars such as Green Bay Packers wide receiver Jordy Nelson and Houston Texans defensive end J.J. Watt.
We've identified eight such former walk-ons who have a shot at hearing their names called in New York City this weekend.
Jared Abbrederis is the poster boy for the walk-on-to-star-player story, at least for 2013, as he won the Burlsworth Trophy, which is given to college football's top player who began his career without a scholarship.
Abbrederis came to Wisconsin planning to play track, only to accept a preferred walk-on spot with the Badgers' football team in 2009. He redshirted that season, but once he got onto the field, he made a steady climb, starting twice in 2010 and becoming a full-time starter as a sophomore.
The 6'1", 195-pound Abbrederis finished his career tied for the Wisconsin receptions record at 202, while his 3,140 yards and 23 touchdowns are both second-best in Badgers history.
Draft projection: 3rd or 4th round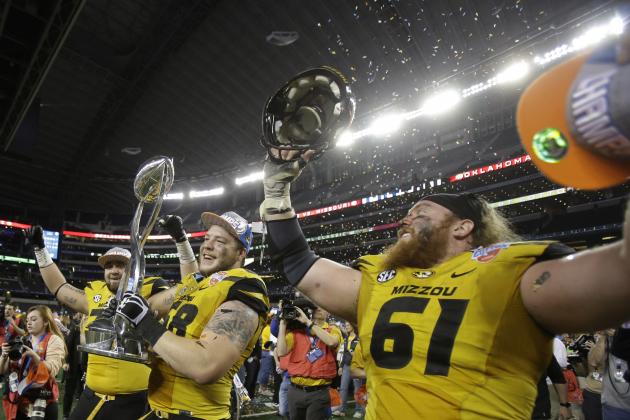 Max Copeland passed up a scholarship to home state Montana—he's from Billings—to walk on at Missouri, and the move paid off.
Copeland started 25 games on the Tigers offensive line, playing both left and right guard, and in 2013 he was part of a line that blocked for the nation's No. 16 rushing offense. But despite that success, he wasn't projected as an NFL guard.
No problem. Since helping Missouri to a Cotton Bowl victory over Oklahoma State, the 6'3" Copeland has sheared 50 pounds off what used to be a 310-pound lineman's body in order to sculpt himself into a pro fullback.
Draft projection: 7th round or rookie free agent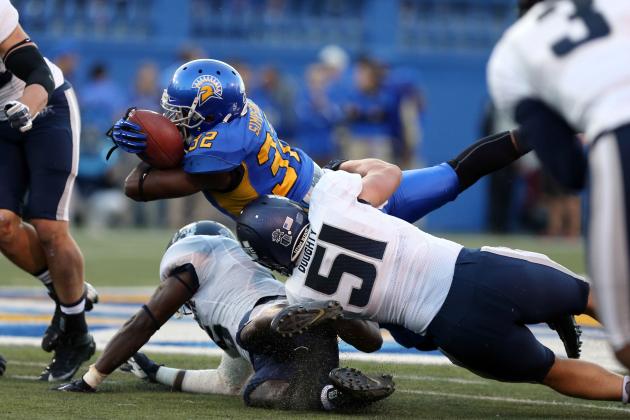 Jake Doughty began his Utah State career as a walk-on and ended it posing for pictures while holding a bowl-game defensive MVP trophy.
Without any serious scholarship offers, Doughty joined the Aggies in 2009 after then-USU coach Gary Andersen saw him playing high school ball with his son and invited Doughty to walk on. He eventually earned a scholarship, became a team captain and led USU in tackles in both 2012 and 2013.
Last season, his 148 takedowns were second-most in the country. He's been a part of the best run of Utah State football in program history, capped with last December's win over Northern Illinois in the Poinsettia Bowl, where he was named defensive MVP thanks to his eight tackles, 1.5 tackles for loss and one forced fumble.
At 6'0" and 234 pounds, Doughty is far smaller than the average NFL linebacker. But he was on the small side of college tacklers, too.
Draft projection: 7th round or rookie free agent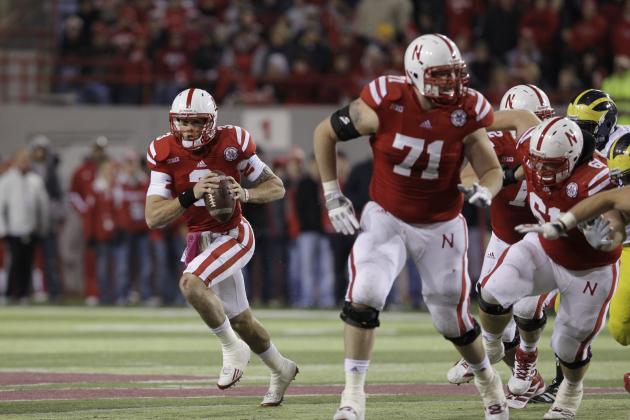 Spencer Long spent two seasons with Nebraska's football team before ever setting foot on the field during an actual game, but within two years of his first action, he was an All-Big Ten player and an anchor on the offensive line.
Though a knee injury cost him the final seven games of his senior season in 2013, Long is poised to go from walk-on to NFL draft pick thanks to his body of work and determination. In addition to his performance on the field, Long was an academic All-American and completed his degree in biological sciences in December.
Nebraska's quarterback situation was muddled at many times during the last two years, but the run game was never a problem. That's because guys such as Long were so efficient in creating holes, the kind that helped the Cornhuskers rush for 285 yards per game in 2013 before his injury.
Draft projection: 7th round or rookie free agent
Unlike the rest of the players on this list, Cody Mandell is only considered a former walk-on because he's done playing college football. He carried the walk-on label throughout his career, recruited by Alabama to play without a scholarship and kept that way the whole time.
That's despite being the Crimson Tide's starting punter since his true freshman season in 2010.
Though not used as heavily as punters at other programs, thanks to his team's efficient offense, Mandell did still manage to put up great numbers throughout his career. He improved from 39.2 yards per punt as a freshman to 47.1 as a senior, and in 2013, he was a semifinalist for the Ray Guy Award, which is given to college football's top punter.
Draft projection: 7th round or rookie free agent
Jack Tyler's size—or lack thereof—won't be what gets an NFL team to draft him. It will be watching how much he was willing to throw himself all over the field during his college career.
At 6'1" and 230 pounds, Tyler might have to become a safety or be resigned to playing on special teams as a professional. But considering he started as a walk-on and ultimately became a team captain, he's shown he's willing to take on challenges.
Tyler led the Hokies in tackles as a junior and senior, compiling 219 in those two seasons. He also had seven sacks and 24 tackles for loss during that time span, starting all 26 games in the middle of a Virginia Tech defense that was among the best in the country both years.
Draft projection: 7th round or rookie free agent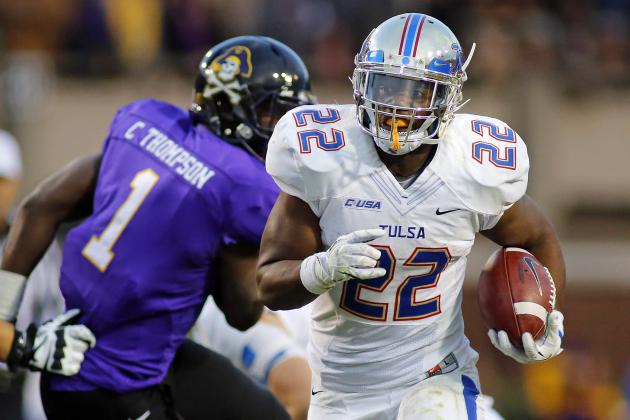 Trey Watts finished his time at Tulsa second on the school's career rushing list, finishing with 3,366 yards and 18 touchdowns. A good amount of that output came last year as a senior, when he ran for 1,329 yards and 11 TDs.
But Watts didn't get much attention for that output because Tulsa was really bad in 2013. The Golden Hurricane were 3-9 overall and 2-6 in Conference USA.
The son of former Oklahoma quarterback J.C. Watts, Trey Watts is on the small side at only 5'10" and 195 pounds, but what he lacked in size he made up for in his ability to elude tacklers and catch passes out of the backfield. As a senior, he had a team-high 46 catches for 395 yards and a TD, and he was also Tulsa's top punt returner.
A do-anything-and-everything kind of guy, Watts may not get drafted, but he should get interest from several teams looking for extra bodies to try out in the backfield.
Draft projection: 7th round or rookie free agent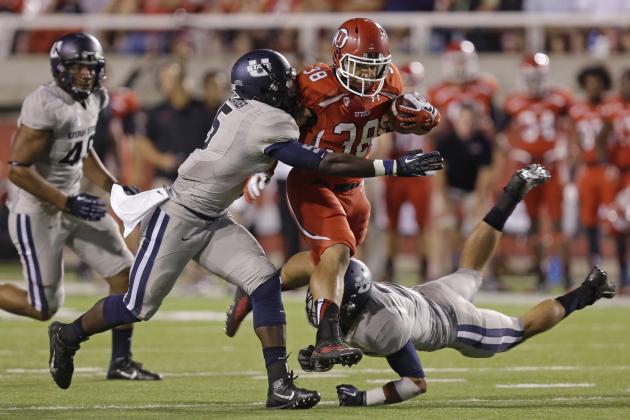 Karl Williams began his career in the FCS ranks at Southern Utah before transferring to Utah in 2010. He redshirted that season, the first of three that didn't come with a scholarship after getting a partial ride to his previous school.
By the end of his junior year in 2012, he was the Utes' special teams captain, and before his senior year, coach Kyle Whittingham awarded him with a scholarship. He also grabbed three starts as Utah's running back in 2013 despite taking most of his snaps on offense as a fullback, though he continued to work on special teams in an effort to contribute in whatever way possible.
The son of former heavyweight boxer Carl "The Truth" Williams, Karl Williams has both the size NFL teams want from a fullback at 6'0", 244 pounds and the moves to be able to run the ball from time to time.
Draft projection: 6th or 7th round
All draft projections courtesy of CBSSports.com.
Follow Brian J. Pedersen on Twitter at @realBJP.