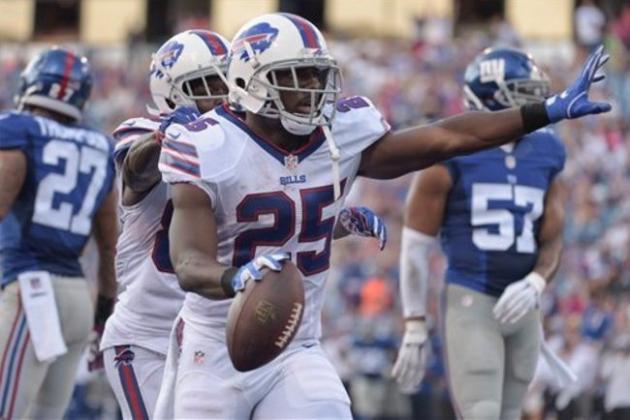 Associated Press
3 Reads 0 Comments
There is no foolproof plan to winning a fantasy football championship.
That's not the best opening sentence for a story on how to draft a winning fantasy football squad, but it's the truth. Wide receivers are now seen as safer early-round investments, but tell that to everyone who drafted Dez Bryant last year.
Health and other randomness—a kicker getting the yips, a backup running back vulturing your starter's goal-line touchdown, scoring the week's second-most points but facing the team with the most—can steamroll a successful season. It's a cruel game, but the informed are better prepared to sidestep heartbreak.
These guidelines are catered to snake drafters, but many of the principles still apply to auctions. For those who have never done an auction, try one out. It offers distinct challenges and involves more strategy.
It's impossible to win a league on draft day, but selecting a suboptimal squad will derail any chances of claiming the crown. Here are some guidelines to leaving the draft with a formidable team.
Play to Your League's Settings
Advice columns paint with a broad stroke to help as many readers as possible. They're written for the majority who use default rules on a major host site.
Everyone else, of course, must adapt to those settings.
In a league that awards six points for a passing touchdown, taking Drew Brees in the fifth or sixth round suddenly looks savvy. Drafters should desire stability from their top picks, which explains why volatile running backs are falling out of favor.
It doesn't, however, justify avoiding a star mainstay such as Brees, who has averaged 4,855 yards per season during his decade with the New Orleans Saints. Last year's 32 passing touchdowns represented his lowest tally since 2007.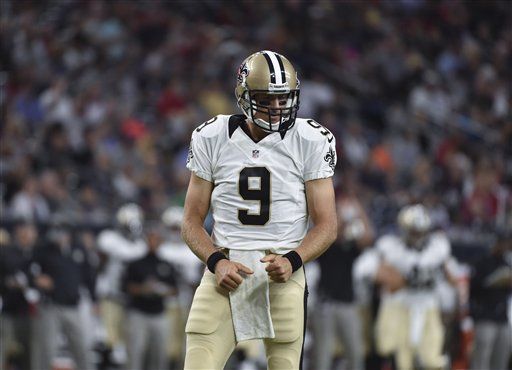 Eric Christian Smith/Associated Press
As noted by ESPN.com's Matthew Berry, Brees was the site's second highest-scoring quarterback behind Cam Newton after returning from an injured rotation cuff in Week 4. Such a bankable star also increases in value when you need to start two quarterbacks.
Researchers should now have little trouble locating analysis geared for point-per-reception (PPR) leagues. The format turns Danny Woodhead, Duke Johnson, Jarvis Landry and Golden Tate into studs rather than matchup plays. Be sure not to follow a host site's default rankings assembled for standing scoring.
Even minor details such as the number of bench spots matter. If an owner has more reserve slots in his arsenal, he or she should exploit the extra resources with some high-upside fliers. Know the league's settings like a sibling by draft day.
Zero RB? Maybe One or Two
Remember when it was practically mandatory to take a running back in the first round? Once an unconventional path, the zero RB strategy has invaded the zeitgeist as a mainstream tactic. Among the top 30 ranked players on ESPN.com, 13 are rushers.
Now that more people are on board with the plan, it might be time to leave the ship. NFL.com's Michael Fabiano wrote against waiting several rounds before taking a running back:
Let's be honest. No matter how good your top three wide receivers might look on paper, do you really want to go into the regular season with a backfield that features Jonathan Stewart and Melvin Gordon as your two best options? And if those are your two best options, who's on your bench ...[T.J.] Yeldon? Well, that's what you're looking at if you don't pick your first running back until the fifth or sixth round. With that said, I also believe it's unwise to go into a season with a weak position and force yourself to lean on the waiver wire to bolster it. While we did see a number of runners come off the wire and produce at a high rate, that had much to do with the abnormally high number of injured starters in 2015.
This was a shrewd philosophy two years ago, when the league began its transition into a pass-first league without the proper fantasy correction. The market has adapted, and drafters are reading a lot into last year's avalanche of running back injuries.
While backs are more susceptible to missing time, an active star rusher is more reliable than most receivers, who are rarely guaranteed targets. This doesn't apply to the top-tier wideouts, but a healthy LeSean McCoy is still a safer week-to-week bet than a healthy Mike Evans.
Don't limit your options by refusing to draft a rusher until the fifth or sixth round. But if the best player available every time happens to play another position, go for it. After all, it's all about value.
Draft for Value
If you want to make a wise fantasy player laugh, tell him or her about your plans.
Multiple formulas will yield a winning team, so don't believe anyone who swears by a specific draft strategy. By committing to zero RB or any other specific idea, a drafter limits his or her options.
Grabbing a tight early may not be the original plan, but that should change if Rob Gronkowski falls into the second round. If not, it makes sense to then wait out tight end. Unless Greg Olsen slips into the sixth round, where he's a steal.
The only plan anyone should follow is the I Don't Give a Crap blueprint coined by Grantland's Jonah Keri. Maybe this road leads to a certain philosophy. See where it takes you.
During the draft, gradually turn best-player-available into team construction. Let's not get too crazy and take six straight receivers, but don't settle for an inferior running back in Round 3 solely to quell the anxiety of not yet having one.
While it's imperative to stockpile as much rushing and receiver depth as possible, it's less necessary to back up a dependable quarterback or tight end. Only extreme circumstances (and a bye week) would cause anyone to sit Aaron Rodgers for Andy Dalton, who isn't significantly better than a free agent like Joe Flacco.
Then again, Tyrod Taylor and Derek Carr could yield a trade return far greater than their initial investment cost if they break out. Don't cross off all passers because someone said not to bother with two.
Wait on Defense and Kicker
Seriously, it's 2016. It's a given to wait until the final two rounds to draft a defense and kicker.