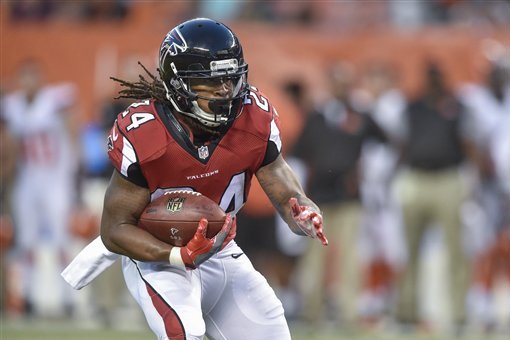 David Richard/Associated Press
Running backs haven't lost relevance in fantasy football drafts. 8 Reads 0 Comments
A great fantasy football team name and a strong draft make one of the best duos in the sporting world.
Seriously, a quality name and draft is on par with Kobe-Shaq, Michael-Scottie, Peyton-Marvin and on and on. The two go hand-in-hand because one can't thrive without the other.
Think about it: That owner who has a dynamite team name but won all of two games? Nobody will remember the name. The owner who wins it all with ease but has a boring name? You might as well not even fire up a league.
Let's help ensure these catastrophes don't occur. First, here's a look at a four-round mock draft in a standard 12-team league:
Fantasy Football Mock Draft Pick Player Position Team Round 1 1.01 Antonio Brown WR PIT 1.02 Odell Beckham Jr. WR NYG 1.03 Todd Gurley RB LA 1.04 Julio Jones WR ATL 1.05 Adrian Peterson RB MIN 1.06 DeAndre Hopkins WR HOU 1.07 Ezekiel Elliott RB DAL 1.08 A.J. Green WR CIN 1.09 Rob Gronkowski TE NE 1.10 Devonta Freeman RB ATL 1.11 Dez Bryant WR DAL 1.12 David Johnson RB ARI Round 2 2.01 Jamaal Charles RB KC 2.02 Le'Veon Bell RB PIT 2.03 Allen Robinson WR JAC 2.04 Lamar Miller RB HOU 2.05 Jordy Nelson WR GB 2.06 Marvin Jones WR DET 2.07 Doug Martin RB TB 2.08 Brandon Marshall WR NYJ 2.09 LeSean McCoy RB BUF 2.10 Cam Newton QB CAR 2.11 Mark Ingram RB NO 2.12 Mike Evans WR TB Round 3 3.01 Eddie Lacy RB GB 3.02 C.J. Anderson RB DEN 3.03 Brandin Cooks WR NO 3.04 Keenan Allen WR SD 3.05 Sammy Watkins WR BUF 3.06 Jonathan Stewart RB CAR 3.07 Alshon Jeffery WR CHI 3.08 Demaryius Thomas WR DEN 3.09 Thomas Rawls RB SEA 3.10 Amari Cooper WR OAK 3.11 Randall Cobb WR GB 3.12 Tyler Eifert TE CIN Round 4 4.01 Julian Edelman WR NE 4.02 Aaron Rodgers QB GB 4.03 Kelvin Benjamin WR CAR 4.04 Jordan Reed TE WAS 4.05 T.Y. Hilton WR IND 4.06 Emmanuel Sanders WR DEN 4.07 Carlos Hyde RB SF 4.08 Eric Decker WR NYJ 4.09 Jeremy Maclin WR KC 4.10 Matt Forte RB NYJ 4.11 Donte Moncrief WR IND 4.12 Jarvis Landry WR MIA
Author's opinion
Seasoned owners get the idea already, and those searching for help can see the general writing on the wall.
Skill positions, as usual, rule the world. High-volume wide receivers must come off the board first, and dual-threat running backs who get touches on the ground and through the air take precedence. With an abundance of high-upside options at quarterback, signal-callers fall down the board.
Top Team Names
PokeMoncrief
Fantasy owners better come to terms with the idea that some of the best names this year will center on the hit mobile game Pokemon Go.
PokeMoncrief is one of the best offerings around, alongside gems such as Gotta Catch Jamaal. It draws inspiration from one of the most interesting skill-position players around, too.
Said player is Indianapolis Colts wideout Donte Moncrief. He scored 104 total points last year but continues to fly under the radar. Former Colts star Reggie Wayne offered high praise, per NFL Media:
Wayne on Donte Moncrief: "He is going to be a stud in this league. He's what you want as a receiver."
— NFL Media (@NFLMedia) August 24, 2016
Owners might want to align themselves with that sort of thinking. It's important to remember Moncrief slotted behind only T.Y. Hilton in terms of targets on the team last season and even more important to keep in mind that starting quarterback Andrew Luck suited up for only seven games.
Like the breakout game, Moncrief could be one of fantasy football's biggest breakout players this year.
Hartline Bling
Fantasy owners won't get too far without a Drake reference this fantasy season.
Hartline Bling centers on wideout Brian Hartline, who sits on the open market as a free agent after a surprising release by the Cleveland Browns.
Hartline is a name to keep an eye on and add to your roster if he lands in a good situation. When the going is good for the possession receiver, it's great—hence Hartline turning a pair of seasons with 128-plus targets into 1,000-yard campaigns.
For now, Hartline is out of a job. Savvy fantasy owners, though, will monitor the situation and have him in the back of their minds on draft day. Even if it doesn't pan out for him on the field, Hartline Bling makes for one great team name this season.
Land of the Freeman
Indeed, it is the Land of the Freeman.
This name has many layers, but from a fantasy football standpoint, it's all about Atlanta Falcons running back Devonta Freeman.
Freeman is one of the must-have players after his monster campaign one year ago. He led all scorers at running back thanks to a versatile skill set few in the league can match, as Pro Football Focus pointed out:
Only 6 players surpassed 400 rush & 400 rec. yards last year
Devonta Freeman
Charles Sims
Tavon Austin
Gio Bernard
David Johnson
Mark Ingram
— Pro Football Focus (@PFF) August 26, 2016
Unlike the other names, though, Freeman did his damage at a workhorse rate. He carried the ball 265 times for 1,056 yards and 11 touchdowns while catching 73 passes for 578 yards and an additional three scores.
As one can glean from the mock draft above, unless a back is named Adrian Peterson, Freeman is the model player owners will want to land high in their drafts. The ability to play an every-down role and contribute by any means equates to a fantasy workhorse.
Based on last season, this team name could again apply to the NFL as a whole if Freeman puts forth another monster showing.
Honorable Mentions Team Name Inspiration InstaGraham Jimmy Graham Tyrod Lannisters Tyrod Taylor Turn Down for Watt J.J. Watt
.
All scoring info and statistics courtesy of ESPN.com standard leagues, as are points-against info and ownership stats. Average draft position (ADP) courtesy of Fantasy Football Calculator.