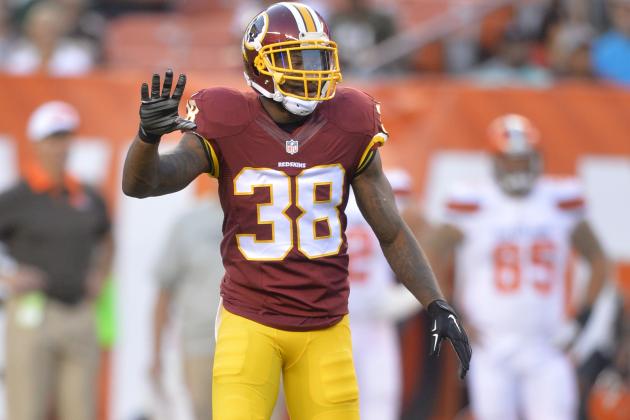 David Richard/Associated Press
283 Reads 1 Comment
Veteran safety Dashon Goldson's stay on the open market is over, as he agreed to a contract with the Atlanta Falcons, the team announced on Sunday.
According to NFL Network's Ian Rapoport and confirmed by ESPN.com's Vaughn McClure, Goldson visited the Falcons on Saturday. McClure noted that Falcons general manager Thomas Dimitroff said on a conference call that Goldson had a good workout. McClure continued:
The Falcons say Dashon Goldson is talking to other teams and knows what his role with the Falcons would be. Rookie Keanu Neal will miss a couple games after Monday knee surgery so Falcons need depth at strong safety. Dan Quinn said Goldson won't be a starter. Healthy Kemal Ishmael would be starter in place of Neal over Goldson if Goldson signs. Apparently not about money but about role for Goldson, so he'd have to accept being a backup.
After just one season, the Washington Redskins released Goldson in a move designed to create additional salary-cap space.
The 31-year-old defensive back enjoyed a solid campaign for the NFC East champion Redskins. He registered a career-high 108 tackles to go along with one interception, one forced fumble and two fumble recoveries.
He burst into the league in 2007 as a fourth-round pick by the San Francisco 49ers, and by 2009, he was an effective, full-time starter.
Goldson made the Pro Bowl in 2011 and 2012 for the Niners before signing with the Tampa Bay Buccaneers. His stint with the Bucs lasted just two years and wasn't overly productive, but he likely helped his stock in his one season with Washington.
It was clear his teammates in Washington had a great deal of respect for him, including quarterback Kirk Cousins, who praised his leadership when asked about it in January, per Anthony Gulizia of the Washington Times: "Dashon Goldson has been a great leader for us all season long. You can tell he's been a part of teams that have won and won consistently. He's been a great personality in our locker room to help from that standpoint, and he's been a great leader for us."
Brian McNally of 106.7 The Fan in Washington, D.C., subsequently described the negative impact that cutting Goldson could have on the Redskins in 2016:
Confirmed #Redskins have cut Dashon Goldson. Save $8 million - but at a cost to a defensive captain. Gaping holes at safety for now.
— Brian McNally (@bmcnally14) March 7, 2016
With a ton of playoff experience—including a Super Bowl appearance—to his credit, Goldson became among the most intriguing safeties on the free-agent market.
While one can argue that a talented defense brimming with Pro Bowl-caliber players bolstered his big-time production in San Francisco, Goldson proved last season that he can be a difference-maker in his own right.
His intangible qualities set him apart from most of the other options on the open market and likely played a role in the Falcons' decision to sign him.
Goldson's sure-handed tackling provided a major boost to Washington's secondary last year, and if he can provide a similar presence in 2016, then he promises to be a worthwhile acquisition.
Depth at safety was an issue for the Falcons to begin with, but bringing in a savvy player like Goldson goes a long way toward fixing that.
Follow @MikeChiari on Twitter.