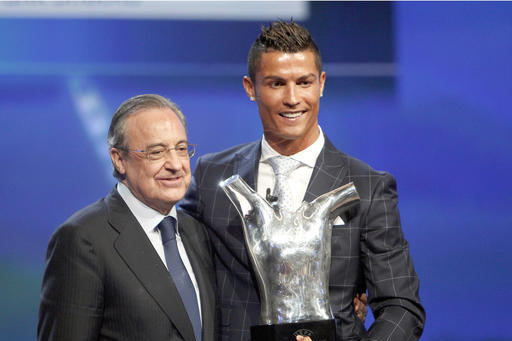 Claude Paris/Associated Press
1 Read 0 Comments
Real Madrid star Cristiano Ronaldo would like to play another decade for Los Blancos and retire at the age of 41.
The Portugal international, who was voted Best Player in Europe on Thursday and bagged both the UEFA Champions League and European titles in 2016, made the revelation in an interview with AS (h/t ESPN FC's Adriana Garcia):
I'm in the best club in the world and I want to finish in this club at 41. Now I need to be calm but I'm aim is to extend my contract and stay in the club that I like the most.
I want to maintain myself at this level. I will work to achieve it as I've done every year. I don't need to look at anyone else, I motivate myself. What I want is to be competitive for another year.
Per Marca (h/t Garcia), Real want to hand the star forward a new contract for at least two more seasons in the near future, with his current deal set to expire in 2018. He's yet to feature in the 2016-17 campaign as he's still recovering from injury and a gruelling 2015-16 season.
The 31-year-old showed he's still a top forward with 51 goals in 48 matches, one of the highest marks in Europe. There are few top players in football as committed in the gym as Ronaldo is, so it's easy to believe the Real man could extend his career beyond what most players achieve.
Ronaldo and his team-mates will try to defend their Champions League title this season and aim for their first La Liga title since the 2011-12 campaign, a competition rivals Barcelona have dominated in recent years.
Silverware is Ronaldo's main goal for the future:
From a collective standpoint, it was the best season of my career. I'm proud that I won the European Championship and the Champions League. I cried after I won both. But I want to win more titles. I want to win La Liga, the Copa del Rey and the Champions League and go to the World Cup with Portugal.
The veteran striker could make his first appearance of the season on Saturday in the home fixture against Celta Vigo and won't leave the club on international duty during the break.