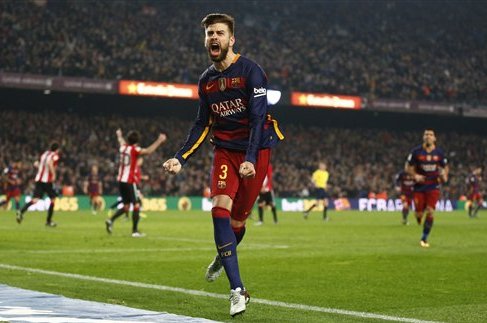 Manu Fernandez/Associated Press
7 Reads 0 Comments
A rivalry is building between Barcelona and Athletic Bilbao. Of course, if you go back to the 1980s you would say it was built then and there, and a vicious one it was.
But things simmered down over the next 25 to 30 years, and until recently it just became a normal game. A good one, no doubt, between two historic sides, but nothing to ring on the calendar.
Then they started meeting in finals. Barcelona and Athletic Bilbao met in the 2009 Copa del Rey final, the 2012 edition and then again on the same stage in 2015.
These sides also met in the Copa del Rey quarter-final last season, with Barcelona winning, just as they had done in the three finals.
But Athletic didn't just beat Barcelona in the 2015 Spanish Super Cup final, they humiliated them.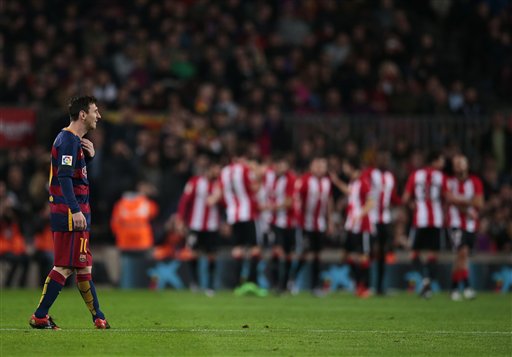 Manu Fernandez/Associated Press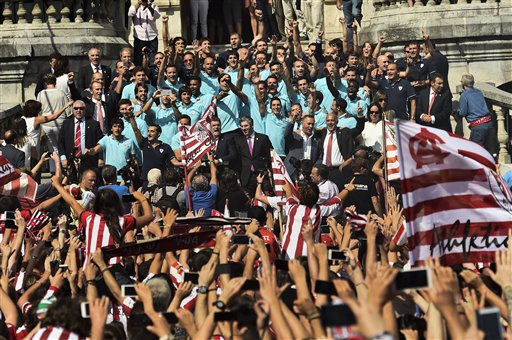 Alvaro Barrientos/Associated Press
Running out 4-0 winners in Bilbao in the first leg, before earning a 1-1 draw at Camp Nou to comfortably take the trophy, denying the Catalans the chance of the sextuple they wanted almost before the season had begun.
Barcelona and Athletic are two of the three teams to have always played in Spain's top flight and two of the sides richest in history and tradition in the country.
They have big fanbases and fierce pride. The conditions were ripe for rivalry to sprout up again.
A player who won't be there on Sunday has helped it rumble on, too.
Many teams don't like playing against Neymar, particularly when he pulls out his flicks and tricks, but the Basques seem particularly averse to it.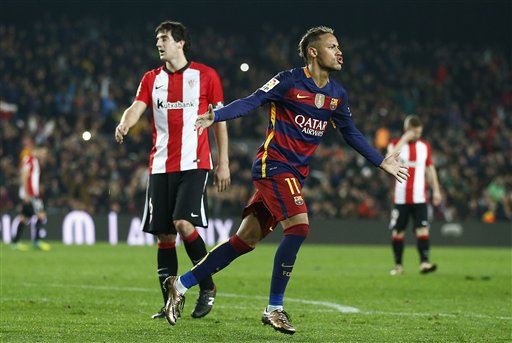 Manu Fernandez/Associated Press
Perhaps it's to do with their industrial culture, as detailed by Scott Oliver in The Blizzard (h/t Centrocampista.com):
[Former Athletic manager, Javier] Clemente's teams were usually resilient, functional and robustly physical, playing a high-intensity, unashamedly 'English' game based around the Bloque: two defensive midfielders screening two centre-backs and, behind them, a sweeper (famously, he once picked Miguel Angel Nadal and Fernando Hierro for Spain in combination… in central midfield).
In a sense, this style suited the city, a largely drab and charmless industrial sprawl (until the titanium cubist sheen of Frank Gehry's Guggenheim sprouted up, at least) centred on mining, iron and the shipbuilding that had first attracted Athletic's English founders at the end of the nineteenth century.
This rugged style has not left the team after all these years, even if it's combined with increasing levels of technical ability, too. And when Neymar gets on the ball, it drives Athletic wild, both players and spectators.
That came to the fore in the 2015 Copa del Rey final, which Barcelona won 3-1. With the team holding that lead, Neymar tried to flick the ball over Unai Bustinza's head, and that enraged Bilbao.
This led to a brawl. Xavi Hernandez had to step in to play peacemaker, putting his arms around Neymar and leading him away from the Athletic players who had ganged up on him after he bumped into Bustinza and fell to the floor.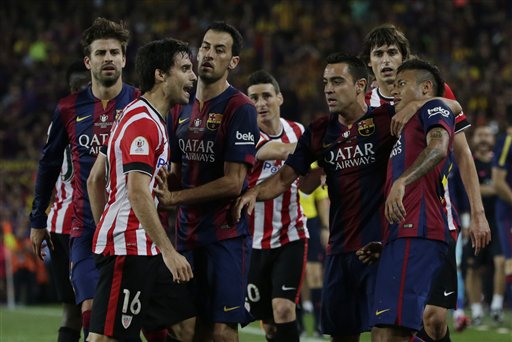 Emilio Morenatti/Associated Press
Per ESPN, Athletic Bilbao captain Andoni Iraola attacked Neymar verbally after the match. He said: "I didn't find [Neymar's flick] elegant or sporting. He has experienced players in his team who still have a lot to teach him."
And, according to the same source, even Luis Enrique, who maybe at that point had not come to realise how he should treat his star men, sided against him.
"If I was an Athletic player, for sure I would have reacted the same, or worse," he said. "In Brazil it is normal, it is difficult to explain to him, but we will try to control that, with time."
The anger was the Basque pride flaring up. And even though the Brazilian is absent for this game after his participation in the Olympics, look out for tempers fraying again. There have been four red cards in the last eight meetings between the teams. And even though Luis Suarez has mostly held it together since joining Barcelona, he will be a target.
Barcelona coach Luis Enrique is aware of the challenge his team have in heading to the San Mames on Sunday. He spoke about the game in his Saturday press conference.
The fact that their market is limited [can only sign Basques] means they're always similar. First of all it's a pleasure to play at San Mames and we're focused on the way Valverde will complicate things - pressing high, creating problems on the second balls. It's one of the most difficult away games in La Liga. San Mames is an incredible stadium, the atmosphere is similar to English football. Valverde is very intelligent. They're a hard working team, I like watching them play, it's never not tough against them.
They will make it tough for us to get the ball back when we lose it. They will create pressure up the field, and have dangerous players like Raul Garcia and [Aritz] Aduriz who are powerful with the ball and in the aerial game, not to mention Inaki Williams when he's out on the wing and has the ball in deep. It won't be easy. Not now. Not ever. And my players know that. But professional footballers love playing in places like that.
The coach's words show he has respect for the intensity with which Athletic play, as well as the quality they have in their squad, which isn't always the case. They say familiarity breeds contempt, but Luis Enrique has gone out of his way to show that is not true.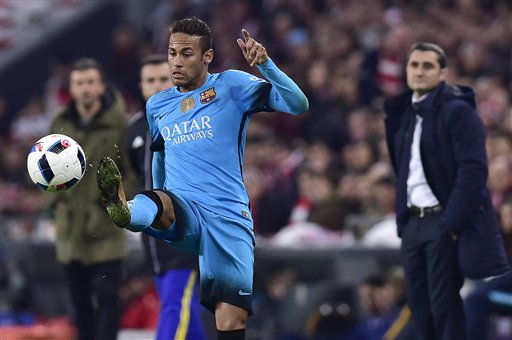 Alvaro Barrientos/Associated Press
Quite the opposite, in fact, with the two sides' familiarity adding to a "new" rivalry, even if you dig deep enough to find the old one buried underneath.
Sunday's clash at the San Mames is just a league game, but that doesn't mean Athletic won't be pumped up for the occasion. And as for Barcelona? They are obliged to be, always.
Valverde knows it. "It costs Barcelona to beat us," he said in a press conference on Friday. "They know we won't give up any ball for dead and we will take every chance until the end. It's a headache to play against us."
Rik Sharma is Bleacher Report's lead Barcelona correspondent. All information and quotes obtained firsthand unless specified. Follow him on Twitter here: @riksharma_